Jurassic World: Dominion Dominates Fandom Wikis - The Loop
Play Sound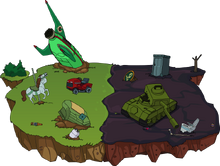 The Rumble is a guild based event in which guilds with at least 15 members are matched against other guilds in a 10 match, Arena style, fight. Each Rumble, your guild is pitted against 18 other similarly ranked guilds.
 Although this time it's not just about winning. 
Scoring
 You get a score based on how much damage you take! If you don't take any damage, you are awarded 100 points per match. Over the course of 10 matches per round, all participants have a maximum potential of 1,000 points.
These points will be added to your guilds total points. The guild with the highest points wins the round and is advanced forward in the rankings. At the end of the rumble, The guild with the most points total, is awarded the #1 ranking and receives the top prizes.
Rewards
The rewards are bases on a tier system.
TIERS

RANK
REWARDS
Tier 1
#1
Mythic

+100

Legend

+1000

Power

+2000

Epic

+2000

Epic

Card

Hero

Tokens

Rare

Card

Pack

Coins

+10000

Watts

+250

Tier 2
#2-3
Tier 3
#4-5
Tier 4
#6 -10
Tier 5
#11 -

#25

Mythic

+20

Legend

+350

Power

+750

Epic

+1800

Epic

Card

Hero

Token

Rare

Pack

Coins

+6000

Watts

+100

Tier 6
#26 -

#50

Tier 7
#51 -

#75

Tier 8
#76 - #100
Tier 9
#101 - #200
Tier 10
#201 - #300
Legend

+100

Power

+300

Epic

1200

Card
Hero

Token

Rare Pack
Coins

+3000

Watts

+35

Tier 11
#301 - #500
Tier 12
#501-#1000
Power

+200

Epic

+750

Epic

Card

Hero

Token

Rare

Pack

Coins

+1500

Watts

+15

Tier 13
#1001-#2000
Power

+150

Epic

+500

Hero

Token

Rare

Pack

Coins

+1250

Watts

+10

Tier 14
#2001-#3500
Power

+100

Epic

+350

Rare

Pack

Coins

+1000

Watts

+10

Tier 15
#3501-#5000
Power

+50

Epic

+300

Rare

Pack

Rare

Pack

Watts

+10

Tier 16
#5001-#10,000
Epic

+250

Coins

+500

Watts

+10

Tier 17
#10,000-#25,000
Epic

+200

Coins

+500
Past Rumble
Winners
| | Rumble #1 | Rumble #2 | Rumble #3 | Rumble #4 | Rumble #5 | Rumble #6 | Rumble #7 |
| --- | --- | --- | --- | --- | --- | --- | --- |
| Date | 12/19/16 | 1/5/17 | 2/2/17 | 3/2/17 | 3/23/17 | 4/13/17 | 5/4/17 |
| 1st | DireTide | DireTide | DireTide | DireTide | DireTide | DireTide | DireTide |
| 2nd | First Floor | First Floor | First Floor | U-N-I-T-Y | U-N-I-T-Y | King of American Burgers Guy | King of American Burgers Guy |
| 3rd | Kill All Humans! | TidalWave | King of American Burgers Guy | TidalWave | New World Order | First Floor | New World Order |
| 4th | Guardian Angels | King of American Burgers Guy | Raptorex Alpha | New World Order | King of American Burgers Guy | TidalWave | Penthouse Suite |
| 5th | The Lost Cartel | Club Nintendo | Kill All Humans! | King of American Burgers Guy | Rino, liefje & friends | Rino, liefje & friends | Nichoaster |
| | Rumble #8 | Rumble #9 | Rumble #10 | Rumble #11 | Rumble #12 | Rumble #13 | Rumble #14 |
| --- | --- | --- | --- | --- | --- | --- | --- |
| Date | TBA | TBA | TBA | TBA | TBA | TBA | TBA |
| 1st | | | | | | | |
| 2nd | | | | | | | |
| 3rd | | | | | | | |
| 4th | | | | | | | |
| 5th | | | | | | | |